Dog Kennels
Stainless Steel Kennels
Description:
Shor-Line stainless steel veterinary Kennels are fabricated from our exclusive 2-piece unitised construction process, minimizing the number of welded seams. Less welds mean stronger and longer lasting kennels.Shor-Line veterinary Kennels are constructed from the highest grade type 304 stainless steel material. Even the frame, trim hardware, screws and platforms are made of stainless steel. Shor-Line Kennels are totally modular. This means each kennel is manufactured as an individual unit, engineered for fit and finish to combine with others into one structural product.When you put them together, they look custom built, specially for your kennel area. Installation is quick and easy. All stainless steel hardware (trim strips, trim plates and screws) attach the kennels together for a finished look. The kennels themselves have a front flange which overlaps the lower kennel or base platform, covering all horizontal joints.
A Mobile or Stationary Stainless Steel Platform to support the kennel assembly may be ordered from Shor-Line with your kennel purchase. Note: when planning space requirements, allow an additional 3mm width for every two kennels that are side-by-side.
Plastic Kennel Assembly With Divider & Mobile Platform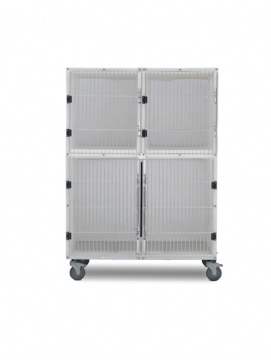 Description:
Precision engineered to meet your requests for an alternative approach to animal kennels. Using technically advanced materials for durability and sanitation, the corrosion resistant Shor-Line kennels are the perfect alternative for your animal holding areas. These kennels are ideal for animal holding after bathing or grooming, or to add to your existing holding kennel system.
The one piece kennel shell is constructed of tough, chlorine resistant polyethylene plastic using a rotationally moulded process that eliminates stress points at seams and adds overall uniformity and rigidity to the unit. This plastic material also resists stains and daily exposure to disinfectants. A urine retaining lip is part of the design to catch spills.
• Includes a powder coated divider is available for the large kennel to separate into two smaller kennels.
• Kennel bank mounts perfectly on our black powder coated mobile platforms.
• The three unit model consists of two medium kennels mounted ontop of one large kennel.
Shor-Line plastic kennels are a functional solution for animal holding. Designed by our engineers with the same goals as our other kennel products: to offer durability and value for your animal kennelling needs. An alternative to our famous stainless steel kennels.
Parvo Kennel
Description:
When there is the need to isolate potentially infectious clients, you can do so using the Parvo Kennel. Clean up is fast and easy due to the raised floor and sloped rear drainage systems. A second kennel unit can be stacked to allow up to two kennel units per base.
Parvo Kennel features:
• Disinfectant safe polyethylene kennel shell.
• Raised floor system which keep your client elevated thus minimising contact with their waste.
• Lexan door splatter guard and raised bottom retaining lip help to contain explosive diarrhoea.
• Sloped rear drainage system.
Run Gate Options
Features
1. Frames
All frames are constructed of 31.75mm square stainless steel tubing. All corners are mitered and hand welded.
2. Patented Latch
Our latch is designed to be durable, secure and quiet. Acetal bushings provide smooth operation and sound dampening qualities. Concave latch bar allows the Run Gate to be opened with your forearm if both your hands are occupied.
3. Horizontal and Vertical Rods
All rods are 6.35mm diameter solid stainless steel and welded at every intersection. Horizontal rods are spaced 152.4mm apart and vertical rods are 38.1mm apart. The result is a safe and rugged gate.
4. PVC Floors
Keep patients and boarding clients clean, dry and comfortable. Supplied in sections for easy removal and cleaning, they are supported by stainless steel stirrups (Raised Floor Run System Only).
5. Adjustable Legs
Front leg has adjustable levelling pad and rear leg has a 101.6mm telescopic adjustment to assure a level and square installation (Raised Floor Run System Only).
6. Horizontal Brace
The horizontal brace provides additional strength and is the same 31.75mm stainless steel tubing as the frame. All vertical rods are inserted into the frame and through the brace.
7. Isolation Panel
Available in standard 1219.2mm high or "total isolation". Constructed of two stainless steel sheets, one exterior and one interior, welded to the frame. Sound dampening material sandwiched between these two sheets prevents an "oil canning" affect.
8. Assembly Hardware
All assembly hardware, screws and barrel nuts are stainless steel.
9. Gates
Gates are as available as all Grill Stainless Steel, half Glass half grill, or all Glass Panels.
---
Colour Options
---
Gate Options
We offer a wide selection of standard options for run gates to allow a custom look at standard pricing. For gates that include PVC, standard colours are included at no charge. Premium and special colours will have a higher price and longer lead times.
SHOR-LINE GATES
Most Shor-Line runs have stainless steel grill or tempered glass doors. It is possible to substitute a PVC panel for the Stainless Steel panel if you desire colour with a Stainless Steel full frame.
Price On Request
Additional information
| | |
| --- | --- |
| Equipment | Hospital & Clinic Accessories |